CCU for Decarbonising the Cement Industry
Dr BN Mohapatra, Director General, National Council for Cement and Building Materials (NCCBM), expounds on the importance of carbon capture, utilisation and storage for achieving net zero goals for the industry.
Dr BN Mohapatra, Director General, National Council for Cement and Building Materials (NCCBM), expounds on the importance of carbon capture, utilisation and storage for achieving net zero goals for the industry.
Honourable Prime Minister of India Shri Narendra Modi has made the pledge to cut the CO2 emissions in the COP 26 summit at Glasgow in November. The new climate action targets 'Panchamrit' by India included:
a net zero target for India by the year 2070;
installing non-fossil fuel electricity capacity of 500 GW by 2030;
sourcing 50 per cent of energy requirement from renewables by 2030;
reducing 1 billion tonnes of projected emissions from now till 2030; and
achieving carbon intensity reduction of 45 per cent over 2005 levels by 2030.

Globally, the cement sector generates about 7 per cent of the total anthropogenic emissions. The sources of CO2 emissions in cement manufacture are categorised as direct sources, which includes calcination (55 per cent to 60 per cent) and combustion (25 per cent to 30 per cent) and indirect sources of CO2 including electricity (8 per cent to 10 per cent) and transportation (2 per cent to 5 per cent).
In hard-to-abate sectors like cement, it is technologically very difficult to reduce the process related CO2 emissions. The Indian cement industry has been working on the issue of its GHG emissions and has brought down the CO2 emission factor from 1.12 t of CO2/t of cement in 1996 to 0.670 t of CO2/t of cement in 2017. In October 2021, Global Cement and Concrete Association (GCCA) published a Cement and Concrete Roadmap 2050 for the
Net Zero Concrete. The leading cement and concrete companies in India including major cement companies in India like UltraTech Cement Ltd., Holcim Group, Shree Cement Ltd., Dalmia Cement (B) Ltd.,
JK Cement Ltd., JSW Cement, Orient Cement Ltd. have accepted the goal to achieve Net Zero Concrete by 2050 and committed to fully contribute to building the sustainable world of tomorrow. Dalmia Cement (Bharat) Ltd., the fourth largest cement company in India has committed to become Carbon Negative by 2040 and working on its roadmap to use
100 per cent biomass and capturing the biogenic CO2 emissions.
The journey towards decarbonisation of Indian cement industry started in 2012 with preparation of a Low Carbon Technology Roadmap specifically for the Indian cement industry, when International Energy Agency (IEA) and Cement Sustainability Initiative (CSI), in collaboration with the Confederation of Indian Industry (CII) and the National Council for Cement and Building Materials (NCB) prepared this document.
The identified levers in the low carbon technology roadmap of Indian cement industry are:
i. Substitution of Clinker,
ii. Alternate Fuel and Raw Materials,
iii. Improving Energy Efficiency,
iv. Installation of Waste Heat Recovery and
v. Newer technologies like Renewable Energy, Novel Cements, Carbon Capture and Storage/Utilisation.
The first four levers have already been implemented by the Indian cement industry and the impact has already been reflected in the reduction of CO2 emission factor from cement industry. The specific direct CO2 emissions of major cement companies in the year 2020-21 is given in table below:
One of the important challenges for decarbonisation of the cement industry worldwide is to reduce the process emissions arising out of calcination of limestone. Therefore, to achieve the target of Net Zero cement industry, implementation of Carbon Capture and Utilisation is required. Carbon Capture and Utilisation (CCU) or Carbon Capture and Storage (CCS) is the process of separating Carbon Dioxide (CO2) from flue gases of point sources such as stacks of cement plants, power plants etc., transporting it to a storage site or utilisation site, and depositing it or utilising it, thereby not letting CO2 enter the atmosphere for mitigation of global warming.
The first stage of CCU is CO2 capture i.e., separating CO2 from the flue gases coming out of the stacks of cement kilns. A typical composition of flue gas from stacks of cement plants contains 18 per cent CO2, 10 per cent O2, 71.9 per cent N2 and 0.1 per cent Other gases. In the carbon capture process, the CO2 is separated as concentrated CO2 for storage and transportation and remaining CO2 free flue gases are emitted to the atmosphere as shown in figure 2.
Carbon capture techniques can be classified in three categories:
Post-combustion processes
Pre-combustion process
Oxy-fuel combustion process
Post-combustion carbon capture process involves extracting CO2 from the flue gas after combustion of fossil fuels. Out of the three capture techniques, post-combustion is well established and commercially available. The advantage of this technique is that it does not interfere with the plant process. The various methods of post-combustion carbon capture are:
Chemical absorption: Monoethanolamine (MEA)
Calcium looping
Chilled ammonia process
Solvent Based absorption
Oxy-fuel combustion involves supply of complete Oxygen to replace Air. Burner, calciner and clinker cooler have been successfully tested under oxyfuel conditions, and the technology is being brought forward. Also, thyssenkrupp has demonstrated a pilot scale oxyfuel retrofit and greenfield cement kilns.
Pre-combustion involves converting coal to hydrogen through gasification. This hydrogen is derived from fossil fuel and called Grey Hydrogen. A cement kiln at the British Ribblesdale plant, UK, by HeidelbergCement successfully tested use of Grey Hydrogen in its main burner.
Several institutes and start-ups worldwide are working to find cost effective energy efficient ways to capture CO2 from flue gases. The status of carbon capture technologies all over the world is shown in table 2.
After capturing, the CO2 is transported to the utilisation/storage site. There are several utilisation pathways of captured CO2 like mineralisation, production of chemicals like urea, methanol, methane etc., as refrigerant, as inerting agent, for fire suppression, for enhanced fuel recovery, in production of plastics, for biological conversion to algae, for use in food products like beverages etc. as shown in Fig 3.

Dalmia Cement (B) Ltd. in association with Asian Development Bank has carried out a Pre-feasibility study to assess the techno-economic pre-feasibility of the CCUS options in its Ariyalur cement plant. The study found urea and mineralization as the top-ranking options for CO2 utilisation but dropped Mineral carbonation as the CO2 derived cement will require longer time for technical approval. Urea production was selected as the best option for utilisation. Similar type of study at industry level is required to assess the potential utilisation when the carbon capture will be implemented in all cement plants. Other than utilisation of captured CO2, the long-term storage of CO2 in deep subsurface rock formations is the option which will not be financially viable.
LeadIT initiative
For promoting low-carbon transition especially in the hard-to-abate sectors like Iron & Steel, Aluminium, Cement and Concrete, petrochemicals, fertilisers, bricks, heavy-duty transport, etc. through active participation of private sector companies, Government of Sweden and India launched an initiative 'Leadership for Industry Transition (LeadIT)' at the UN Climate Action Summit in New York in 2019. Stockholm Environment Institute hosts the Secretariat of LeadIT. Under the LeadIT initiative, preparation of the sectoral roadmap for the cement and steel sector in India has been undertaken.

In May 2022, DG-NCCBM as part of Indian Delegation to Sweden visited Heidelberg Cement Ltd.'s Slite Cement Plant at Gotland, Sweden and SSAB Steel Plant and the pilot plant of the HYBRIT Project at Lulea, Sweden Under LeadIT initiative as shown in Fig 4 and 5.
The Slite cement plant is Sweden's largest cement factory with a production capacity of 2.5 million tonnes per year and is currently the second-largest source of greenhouse gas emissions in Sweden, responsible for three per cent of all its CO2 emissions. HeidelbergCement is upgrading its Slite Cement plant to develop it into World's first 'Carbon-Neutral Cement Plant', and it will be having facility to capture up to 1.8 million tonnes of CO2 annually, which corresponds to the plant's 100 per cent CO2 emissions and store the same in an underground long storage facility. The pre-feasibility study for a Carbon Capture and Storage (CCS) facility at the Slite Cement Plant has been completed recently and got promising results, which were presented during the visit. In the pre-feasibility study, amine capture was found to be the most suitable technology for Post-combustion Carbon Capture. It was informed that the implementation of the carbon capture facility will require some modification to the plant. As capturing CO2 is an energy intensive process, the power demand of the Slite Cement Plant is also expected to rise significantly. The pre-feasibility study has identified Geological sequestration, which involves the process of storing carbon dioxide by injecting the captured CO2 from a cement plant into deep subsurface rock formations for long-term storage. To store the captured CO2 from the Slite cement plant, the carbon dioxide will be buried under the North Sea in cavities created by the extraction of fossil fuels.
HYBRIT is a partnership between LKAB (Europe's largest iron ore producer), Vattenfall (one of Europe's largest energy companies) and SSAB (steel producer) formed to develop hydrogen-based production of fossil free sponge iron production, in order to reduce the negative climate effects of steel production. Using HYBRIT technology, SSAB aims to replace coking coal, traditionally needed for ore-based steelmaking, with fossil-free electricity and hydrogen, resulting in the world›s first fossil-free steelmaking technology. The pilot plant using fossil-free hydrogen at the SSAB site in Luleå, Sweden started in 2020. This facility demonstrates the feasibility and scalability of the new technology replacing coal by hydrogen in the steel production process and aims to produce 1.3 million tonnes of steel by the year 2026.
The slite cement carbon capture plant is targeted to start full scale operation by 2030 to capture the plant's 100 per cent CO2 emissions. The plant officials informed the visiting delegation that a 400,000t/yr CCS system is being built by Norcem, a subsidiary of Heidelberg Cement, at its Brevik cement plant in Norway. The CSS facility at Brevik is presently under construction and will start operating by 2024. The Slite cement plant will have four times the capacity of that at the Brevik plant. Additionally, the use of bio-based fuels in the cement production at Slite will be increased.
For implementation of CCU in the Indian cement industry, such demonstration projects need to be implemented in a few plants, which will help in creating expertise in the cement industry to run CCU facilities and will also encourage other cement companies to move in this direction. There is a need to assess the impact due to implementation of CCU in all the integrated plants in terms of increase in cost of product due to high capture cost, avenues for utilisation of captured CO2, integration in existing plants and funding required for implementation at plant level.
About the author:
Dr BN Mohapatra is the Director General of National Council for Cement and Building Materials (NCCBM). He is a PhD in Cement Mineral Chemistry and the chairman of the Cement Sectoral Committee of the Bureau of Energy Efficiency (BEE). He is also a member of various technical committees of Bureau of Indian Standards (BIS), member of Research Committee of CSIR-National Physical Laboratory (NPL) and member of Research Advisory Committee of DISIR and AKS University.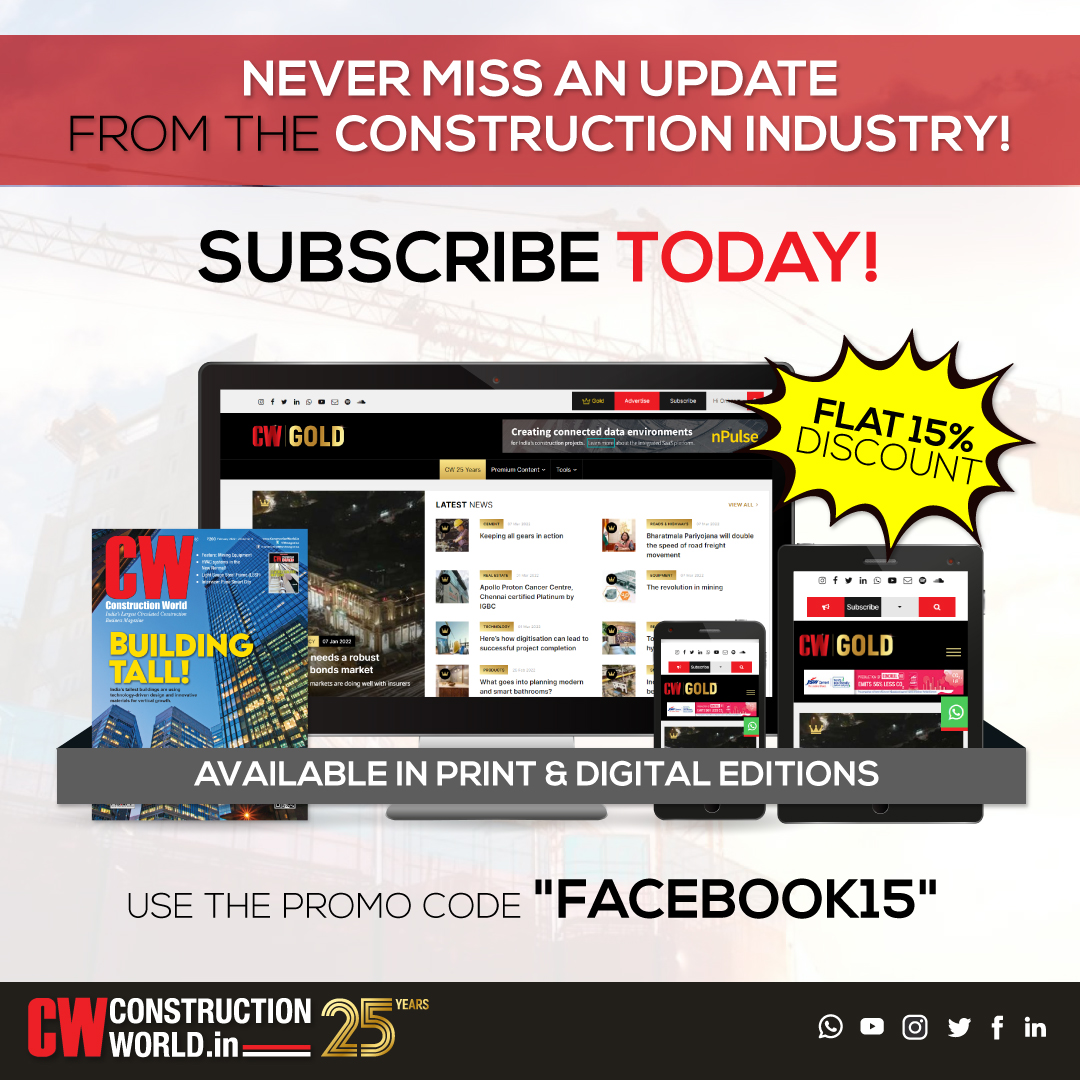 Subscribe Now
Subscribe to our Newsletter & Stay updated
Reach out to us
Call us at +91 8108603000 or